Organizations globally are facing a new wave of change that demands them to be immersive, highly available, and cognizant of IT changes within stringent financials. In a bid to offer comprehensive technological experiences, most companies work on multiple and collaborative digital platforms and IT environment. Managing such multi-platform applications and offering vendor-agnostic support is a mammoth task. It needs higher expertise, greater scalability, better resources, and more time and efforts. But the hardest part is to maintain consistent quality amidst the rising service level complexities.
Upgrading employees with cutting edge training and certification programs
Testing software products can be overwhelming. On top of it, it is a manual task; testers can have a nightmare. And, yet, you might still not achieve zero-defects applications. This is the reason why Automation Testing is practiced at large scale. With automation induced testing, you can ensure fail-fast achieve zero-defects applications, and accelerate time to market at a reduced cost.
"With automation induced testing, you can ensure fail-fast achieve zero-defects applications, and accelerate time to market at reduced cost."
MSys Technologies delivers a power-punch bugs treatment with its custom automation framework. This allows testing of complicated business logics with a proven, reliable, and secure methodology. Our automation frameworks get well integrated with your application workflows to steadfast software delivery. Resultant – reduced manual efforts, zero human errors, a dramatic increase in productivity, faster time-to-market, better ROI, and payback.
MSys' Automation Testing expertise is drawn from its datacenter excellence – encompassing Storage, Networking, Virtualization, and Cloud. We carve your path towards digital assurance by orchestrating tool agnostic test automation framework, suitable to complex application logic. Our Automation Testing Engineers and Architects utilize cutting-edge technologies, reusable frameworks, connectors, customer drivers, and the latest libraries to implement automation accelerators. Our test automation frameworks are well-tuned to DevOps and Agile practices, ensuring you are at the pinnacle of business.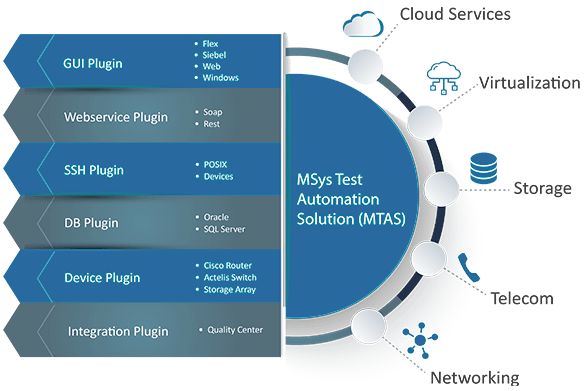 MSys Technologies undertakes a modular approach and creates a rational roadmap, underlining organization's unique needs. Our experts then gauge your organization's maturity levels at multiple fronts. Based on your existing application testing capabilities, we slowly and skillfully induces QA automation with an intelligent tools deployment strategy. MSys Technologies provides Testing and Quality Assurance services to storage, cloud, and embedded domains.
MSys Technologies Testing Automation services include:
Storage:
NAS Testing, SAN Testing, Management UI Testing, SSD/Flash Array, and System/Solution Testing.
Virtualization:
vCenter Plug-in Validation Testing, VAAI Automation Testing, Device Driver Validation Testing, SCVMM Plug-in/Connector Testing, and Compatibility and Inter-Operability Testing.
Cloud:
Continuous Integration Environment Setup for OpenStack, Validation of Migration/Upgrades, Cloud Performance Testing, and S3 API Testing.
Networking:
GUI Testing – Manual/Automated Testing for Switches/Gateways, and Device Product Management Interface Testing Low Level Packet Inspection and Capturing Products, Testing Bandwidth Shaping Products for NAS Protocols, Functionality Testing for Routing Protocol Implementation of ODM (Original Device Manufacturer), and Software-Defined Networking (SDN) Testing.
Certification:
Drive Verification and Signing for MS Logo, SAN Storage Hardware Qualification for MS Logo, NAS Storage Hardware Qualification for MS Logo, Storage Certification for VMware Logo, VAAI/VASA Plug-in Validation for VMware Logo, and PCI/PCIe-Host Bus Adapter and Controller Validation for MS Logo and VMware Logo
Our Customer Speaks
"MSys Technologies facilitated quality testing through automated test scripts. Our products' efficiency improved by notches. We also saved costs in the overall test lifecycle,"
– Product Manager, Storage ISV.
Accelerate with MSys today!

Work with a top-ranked, Gold and Elite certified Microsoft Cloud Partner

Leverage Teams with a proven record of extensive datacenter migrations

Rapid ROI with 3x faster migrations and up to 43% lower costs

Migrate datacenter to cloud with near-zero downtime, risks or end-user impact
See us in action,
kick-start the project
CTO Network Newsletter
Join 10,000+ Product Leaders for latest technology updates
Talk to Our Engineering Experts