The rise of complex business networks within organizations has a deep impact on enterprise computing. Multiple offices, teams, and dissimilar IT infrastructure can mean a diverse portfolio of challenges like real-time information exchange, systematic collaboration, and workflow management. These challenges threaten to disturb the enterprise ecosystem unless a unified application is in place that can bring together different systems, processes, data, and people on the same platform.
Digitally transform your Enterprise Application
The competitive markets create a pressing need for your solutions to give consumers the right edge. Product development teams need to collaborate with Enterprises from day zero to thoroughly understand their business needs. Enterprises need to develop robust applications that improve customer engagement and experience while streamlining the business process.
"Enterprises need a unified application front that brings together different systems, processes, data, and people on the same platform"
A cutting-edge enterprise application is one that ensures accelerated development, so businesses are responsive to market changes in real-time. Enterprise applications that are aligned to business needs simplify task execution among teams, across locations
Offerings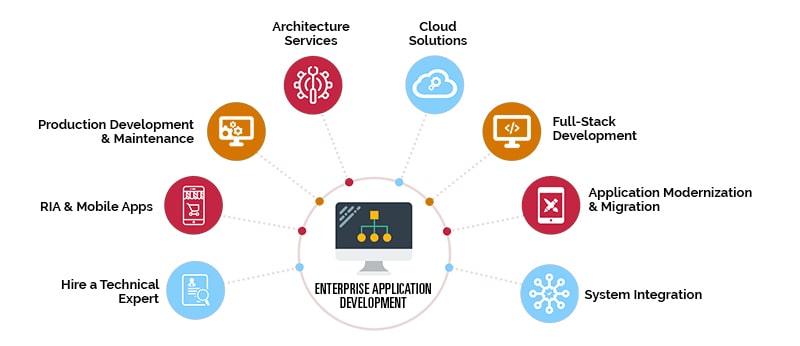 Web Application Development
MSys Technologies offers full-stack web app development services incorporating tailored solutions to suit your business strategy. Our services include custom mobile app development, mobile-enablement of existing apps, mobile-web applications, boosting the efficiency of native platforms.
Cloud Application Development Services
Formulating the best cloud strategy using SaaS, PaaS, or IaaS cloud architecture, ensuring scalability, security, and reliability of your application. Deploying easily scalable team that thoroughly adjusts to your organization, we provide just as many web developers and all the design experts that you need.
Responsive Web Applications
Making websites and web apps responsive and adaptive. Building fast-loading, highly optimized experiences that work across a wide range of devices.
Custom Web Applications
Customizing applications as per the exact specifications and needs of the client user and their end-users.
Mobile Application Development
iOS Development
Consulting, product roadmap, UX/UI design, development, testing, and support services. Encompassing the complete range of iOS devices- iPhone, Apple Watch, iPad, Apple TV.
Android Development
End-to-end product development lifecycle strategy- from concept to distribution. Delivering highly adaptive applications that adhere to the most recent Android upgrades and API bundles.
Cross-Platform Development
Specialize in nativizing hybrid and cross-platform applications. Our developers are adept at delivering seamless responsiveness and consistent functionality across different media.
Technologies We Excel At
Angular JS, React JS, Node JS, Ruby on Rails, Java, Python, Mean Stack, Mern Stack, Xamarin, Telerik, Cordova, React Native, PhoneGap, Flutter, Java, C++, Android Studio, Eclipse IDE
Our Customer Speaks
"MSys Technologies has proven to be an amazing app development partner for us. Not only do they come up with innovative ideas and solutions, they know how to make your business stand out."
– CEO, Fitness Application Company
Accelerate with MSys today!

Work with a top-ranked, Gold and Elite certified Microsoft Cloud Partner

Leverage Teams with a proven record of extensive datacenter migrations

Rapid ROI with 3x faster migrations and up to 43% lower costs

Migrate datacenter to cloud with near-zero downtime, risks or end-user impact
See us in action,
kick-start the project
CTO Network Newsletter
Join 10,000+ Product Leaders for latest technology updates
Talk to Our Engineering Experts