Today's businesses are in a perpetual state of time crunch. The hyper-connected industry is moving at breakneck speed, making it imperative for enterprises to deliver faster than ever. Businesses need to satiate market demands while providing value to customers. The digital transformation approach of any organization must consider this and strategize to achieve optimal results, with increased velocity, and cater to end-user demands.
Delivering market-ready software through modern approaches
DevOps practices and agile methodologies should be an integral part of product strategy. DevOps and agile practices, when deeply ingrained in a software development process, drive major business value and deliver an enriched impact on product delivery. A robust software is at the heart of a digital business.
"DevOps and agile practices, when deeply ingrained in a software development process, drive major business value and deliver an enriched impact on product delivery"
Offerings
MSys Technologies' services can be applied from digital customer-facing systems to large-scale enterprise products. Our software development services implement and run the tools necessary for supporting Continuous Delivery and Integration. With our DevOps and agile practices, businesses achieve greater business agility through products that feature
Faster time to market
Amplified throughput
Lower risks
Resiliency
MSys Technologies has always adopted the "customer first" policy in all its projects. This enables us to devise a reliable, market-ready, dynamic software that does not deviate from the client's vision. This approach is a key differentiator for our software development capabilities. Our software development processes, acumen, and digital transformation experiences enable businesses to navigate the complex transformation journey smoothly, improve customer experience and reduce time-to-market.
Streamlined process coupled with skillful engineers
- delivering a robust software product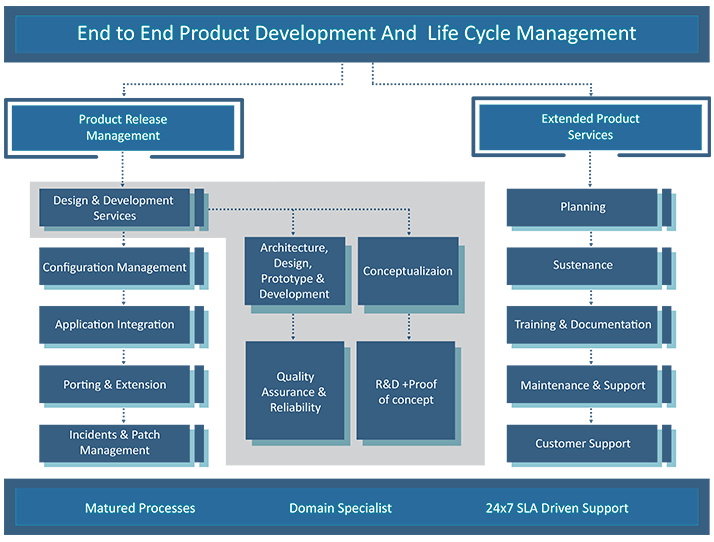 Customer involvement is a core and critical aspect of the entire software development process at MSys. Understanding the desired output, its functionality, and end-user expectancy are reinforced through a deep understanding by working closely with clients. We can help businesses to translate business ideas into high-performance software, and accelerate time-to-market while achieving time and budget constraints. Our expert UI and UX Development services maximize user acceptability through clean and simplistic UI.
Our highly skilled solution architects act as a natural extension of your software development teams. MSys provides highly skilled onsite and offsite staff to augment your proprietary product development and project management, teams. MSys Technologies ensures stakeholder involvement throughout the process in the form of discussions, active consultations, and proactive suggestions. The result is a software product that suits the requirements of your business needs.
Our services include
Product Ideation
Software Conceptualization
MVP Conceptualization
Design & Development
Software Design and Architecture
Development
Testing
QA Testing (Manual + Automated)
Integration
Technical Support
Documentation & user Manuals
Training & Support
Implementation & Deployment
Product Delivery- Planning and execution
Additional services
Re-eingineering
Backup & Disaster Recovery
Migrations & Updates
SLA Support
Software Integration
Product Security
Plugin Development
API Development
Our Customer Speaks
"We have been associated with MSys for over 4 years now and it has been a very positive experience for me and my company. They understand the nuances of our products and always deliver the highest quality work."
– AVP Engineering, Provider of industry-leading storage solutions
Accelerate with MSys today!

Work with a top-ranked, Gold and Elite certified Microsoft Cloud Partner

Leverage Teams with a proven record of extensive datacenter migrations

Rapid ROI with 3x faster migrations and up to 43% lower costs

Migrate datacenter to cloud with near-zero downtime, risks or end-user impact
See us in action,
kick-start the project
CTO Network Newsletter
Join 10,000+ Product Leaders for latest technology updates
Talk to Our Engineering Experts