Sea changes in the IT business require a software ecosystem to deliver efficient products in minimum release cycles. But, rolling out mission-critical applications with assurance is packaged with key challenges – creating and executing excruciating test cases, time-consuming test development cycles, testing legacy systems, and dealing with mind-numbing changes in the configuration of applications modules. This warrants your organization to introduce a robust automation testing framework. It'll ensure dramatic enhancement in the end-user adoptions and user-experience while cutting down delivery costs. Your organization essentially needs the below key modern application testing features:
Reusability
Extensibility-Infused Framework
Automated Test Scripts – 24/7
Standardized Coding Patterns
Database for Test Scripts
Version Control for Test Scripts
Ensure Maximum Test Coverage with Automation Accelerator
Organization encounters serious challenges while facilitating test automation in their ecosystem. The first key reason is management' apprehension towards the cost of investment. The other being lack of expertise to select right testing tools and technologies. Therefore, a better strategy would be leveraging of test accelerators to navigate smoothly across Software Test Life Cycle (STLC).
"A robust automation testing framework ensures dramatic enhancement in the end-user adoptions and user-experience, while cutting down delivery costs."
MSys Technologies' Solution Accelerators are part of our QA and testing suite of tools. They focus on achieving accelerated time to market for your products, increasing your ROI and allowing frequent releases owing to concurrent automated testing from the beginning of the product development lifecycle. Our Test Automation Accelerators include Mobitaz, MTAS, Purple Strike RT.
Mobitaz
Mobitaz is an advanced android/iOS test automation tool. Mobitaz is the product of years of development at MSys, put together by our talented product-engineering professionals, who have experience in several mobile test automation tools.
Mobitaz key features
Support:
Wider, more extensive support for iOS and Android. Support for native and WebView components, various hardware configurations, and OS versions from Gingerbread to the latest. For iOS, Mobitaz supports from version 5 onwards.
Robust:
Easy to use. Teams can expedite tests and deploy them. Maximized test coverage and tool robustness ensure better quality assurance and higher ROI for Mobitaz customers.
Faster:
Makes you stay ahead of the competition and reduces testing time as well as go-to-market time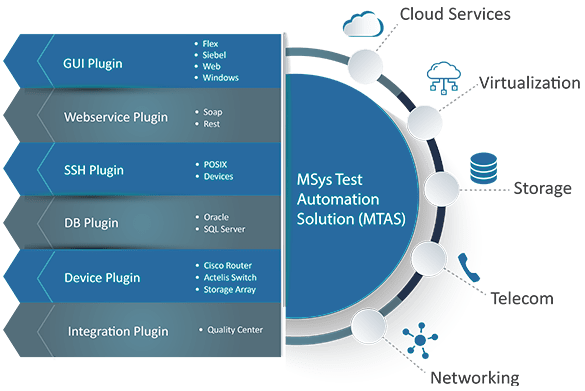 MTAS
MTAS is an end-to-end MSys Test Automation Solution compatible with many applications. MTAS is continuously innovating itself by adding more testing capabilities. This continued refinement gives MTAS an edge over generic test automation solutions, making it one of the most preferred among QA engineers and developers.
Purple Strike RT
Purple Strike Real Time (RT) is an extremely powerful load testing solution on the cloud with an intuitive user interface. You can automate real applications and run web applications from real browsers to generate real-time load scenarios. Our high performance distributed real-time load testing on cloud lessens your risk of app and website failure. We harness the cloud infrastructure to test your Windows, Web, and Mobile apps to increase time-to-market and to provide greater ROI.
Purple Strike RT key features
High-Performance Load-Test Server:
Provisions cloud servers and creates the necessary infrastructure to manage, run, and monitor tests.
Load Testing:
Each agent initiates the load by opening and automating real applications.
Pre-execution Server:
Runs all your environment creation.
Our Customer Speaks
"I am extending my wishes to MSys' testing team. Their QA efforts helped debug critical issues and ensured our project delivery at desired speed and quality. The team's test accelerator Purple Strike RT was instrumental in efficient management and testing of our cloud server. Overall, we highly recommend MSys Technologies' Test Automation Accelerator,"
– Test Manager, leading Digital Company
Accelerate with MSys today!

Work with a top-ranked, Gold and Elite certified Microsoft Cloud Partner

Leverage Teams with a proven record of extensive datacenter migrations

Rapid ROI with 3x faster migrations and up to 43% lower costs

Migrate datacenter to cloud with near-zero downtime, risks or end-user impact
See us in action,
kick-start the project
CTO Network Newsletter
Join 10,000+ Product Leaders for latest technology updates
Talk to Our Engineering Experts