Artificial Intelligence – the fuel for digital growth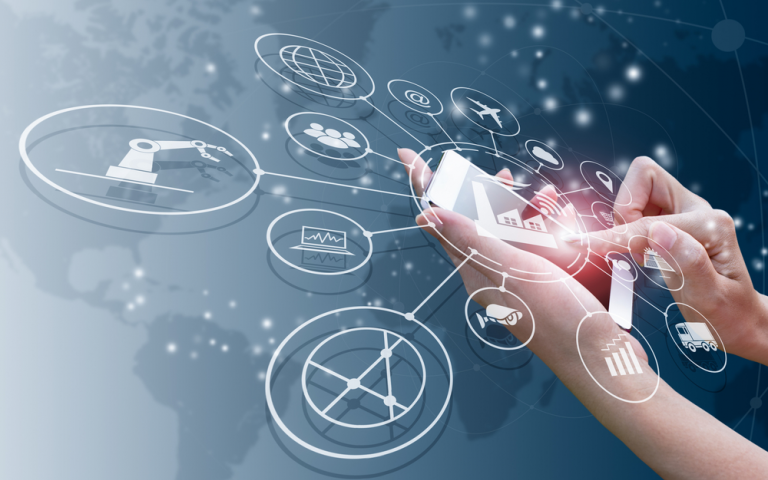 Audio : Listen to This Blog.
Driving Digital Transformation with AI
Artificial Intelligence has become the fuel of digital disruption. The real-life benefits for a few initial adopters have already started yielding results. For others it has become more important to begin their digital transformation without further delay. AI technology systems like computer vision, robotics and autonomous vehicles, natural language understanding, virtual advisors, and self learning machines that use deep learning and support many recent advances in AI, have become mainstream. As industries and businesses struggle to yield the benefits of AI, they are realizing that it is easier said than done. A good company that can render profound Artificial Intelligence Services is what most businesses need, so that they can continue to focus on the development and marketing of their products.
The Roller Coaster Ride
The idea of Artificial Intelligence started gaining impetus post the development of computing. It has also experienced its wave of glory and dismay. One thing AI was yet to experience was the large scale commercial deployment, but that is slowly changing too. Machines powered by Deep Learning, a subset of AI, can perform multiple activities that require human cognition. This includes understanding complex patterns, curating information, reaching conclusions and even giving out predictions with suggested prescriptions.
The capabilities of AI have significantly broadened, so has its usefulness in many fields. Although one key thing we should not forget is that machines do have some limitations. To take a relevant example, machines are always susceptible to bias as they depend on training data and are trained on specific data sets. Comprehensive dataset is still a relative term. It is both driven by available data and the modellers understanding of use case. Although, irrespective of all these limitations we are experiencing commendable progress.
Driving out of the dreaded 'AI Winter' of 1980's, AI powered by machine learning has scaled up since 2000 and has driven deep learning algorithms.
The key things that have facilitated these advances are
Availability of huge and varied datasets that are comprehensive in nature
Improved models and modelling techniques that can self learn using reinforcement
Increase in R&D funding
Powerful computing hardware and processing units such as GPU, NPU etc. that are 80 – 90 times faster than normal Integrated Circuits
The Promise – Boosting Profit and Driving Transformation
Adoption of AI still remains in its very initial days. Thus it still remains a big challenge to assess the real potential impact of AI on various sectors. Early evidence suggests that if AI is implemented at scale it does deliver good returns. AI can even transform business activities. It can reshape functions across the value chain and the cases can have major implications for many stakeholders, ranging from MNC, SMB, Government, and even social organizations.
"Extensive financial growth will be seen by those organizations, which will combine a proactive AI strategy with its strong digital capability."
Some of the digital native companies have made early investments in AI and they have even yielded a potential return on investment. A case in point can be Netflix that uses algorithms to personalize recommendations to its worldwide subscribers. Customers tend to have a patience span of only 90 seconds and give up if they are not able to find their desirable content within this time. Netflix satisfies this discovery through better search results. This has helped it to avoid cancelled subscriptions that otherwise would have reduced its revenue annually by $1 billion.
The expectation that has been set on AI will need it to deliver economic applications that can significantly reduce costs, enhance utilization of assets and increase the revenue.
AI can help create value in following avenues:
Enable organizations to better budget and forecast demands,
Optimize research and better sourcing;
Enhance ability to produce goods and deliver services at lesser cost but higher quality;
Help tag the right price to offering, with an appropriate message, and targeted to the right customers;
Provide personalized and convenient user experience
The listed points are not exhaustive but are based on the current knowledge of applied AI.
AI will also have unique degrees of relevance for each industry, the prospect and application levers are particularly rich with troves of opportunities. Machine Learning powered by deep learning can bring deeper and long term value to all sectors, few technologies are exceptionally suited for business applicability. Some specific use cases are cognitive robots for retail and manufacturing, deep machine vision for health care, and natural language understanding and content generation for education.
Industries disrupted by AI
Financial Services
AI has significantly helped disrupt this industry in multiple avenues. It has enhanced security to better safeguard assets by analyzing large volumes of security data to identify fraudulent behavior, suspicious transactions and potential future attacks.
Document processing is a key activity in financial services. It involves time, is prone to human error and vulnerable to duplications. AI speeds up the processing time and reduces the errors significantly. However, the most valuable benefit is 'data'. The future of financial services is mostly reliant on acquiring data to stay ahead of competition, here AI plays a significant role. Powered by AI, organizations can process massive volume of data, this will offer them game-changing insights that in turn will provide better experience for its customers.
Healthcare
In healthcare, AI will help identify high risk patient groups, and launch preventive medication for them. Hospitals typically can use AI to both automate and optimize operations. Diagnosis which used to get delayed due to multiple opinions can now become faster and accurate. Healthcare expense can now be accurately estimated with focus on healing. In this journey of healthcare, specialists can now formulate better drugs and dosage, and virtual agents can help deliver a great healing experience.
Education
In education, AI can connect need with content. It can help identify key drivers of performance for students to highlight and build their strengths. It can personalize learning and shift from break test model to continuous feedback based learning empowered by virtual tutors. It can also automate human tutors' mundane tasks, detect early disengagement signs in students, and help form groups on focussed learning objectives.
Storage
Enterprises are rapidly shifting towards cloud storage. Lesser dedicated storage arrays driven by dynamic storage software will now be run by deep learning brains. This will help companies add or remove storage capacity in real time, thus reducing 70 percent in cost. Next generation scale-out computing environments will have a few thousand cores (neurons) and they will be connected at tremendously high speed and at exceptional low latencies. Servers that are part of these neural-class networks are instrumented for the telemetry that is needed to build and automate self-driving data centers.
They are instrumented to process packets that are needed for real-time analytics. The key trends that have led to the emergence of "Neural-Class Networks" are the computing environments which are used for AI that uses the distributed scale-out architecture, and data of massive size. They can be found in the data centers service providers in public cloud, exchanges, retailers, financial organizations and large carriers, to handpick a few.
The digital enterprises that are successfully flourishing today depend a lot on algorithms, automation, and analytics driven by AI. These emerging technologies which were previously available only to large enterprises have now become accessible and affordable, thanks to democratization of AI. Today even SMBs have the required AI tools, access to skilled AI partners, and the right people to financially back the disruptive ideas that can effectively help them compete with larger players. The exciting times have just begun.