What to Expect from a Full-Stack FinTech Software Development Team?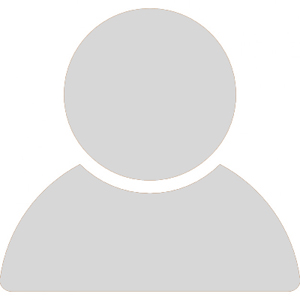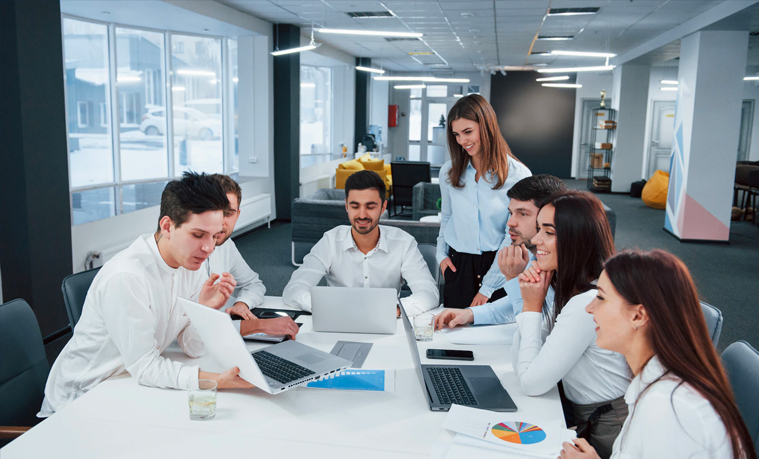 Audio : Listen to This Blog.
Introduction
FinTech is the term used for financial technologies, including but not limited to banking and payments. The word often signifies leveraging technology to make financial services more efficient and accessible to consumers.
FinTech applications have already become essential to our everyday lives. The accelerated adoption of digital transformation in the wake of the new normal revolutionized the FinTech realm.
As the FinTech industry is really exhilarating and doesn't show any signs of slowing down, for a FinTech business owner, it means juggling a lot of things:
Keeping up with important trends or changes within the competitive landscape
Adapting their businesses to the dynamic and volatile market requirements
Conjuring up by prioritizing unique and customer-centric solutions
Developing a futuristic outlook to ensure business continuity and resilience
Full-stack FinTech software development services come in handy while grappling with the scenarios like those mentioned above. A full-stack FinTech solution comprises software and services, technology and design, product management, and customer support. It includes everything from the database to the servers, as well as application development and maintenance, helping you effectively tackle the fierce competition in the marketplace by adopting the latest technologies earlier than your competitors.
Hiring a top-notch full-stack FinTech software development company sparks and accentuates innovation.
Intensifying full-stack FinTech software development competency is the need of the hour for businesses to make their solutions more prolific.
How FinTech Software Development Companies are Revolutionizing Transactions
Fintech software development has entirely revolutionized the way people perform financial transactions. The traditional banking model has been replaced by a more inclusive, customer-centric approach that allows customers to access their funds easily and provides them with a better customer experience.
According to Deloitte, FinTech is a fast-growing space anticipated to be worth $179 billion by the end of 2022 and surge further to $213 billion by 2024.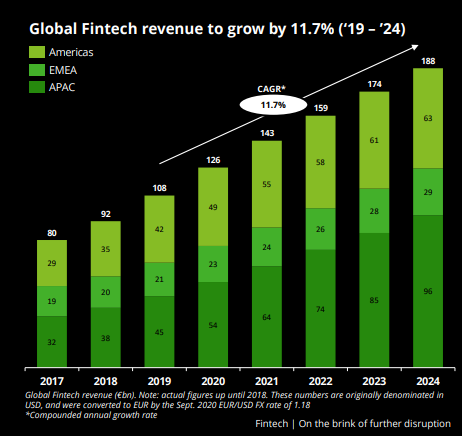 Moreover, in recent years, particularly since COVID-19, the share prices of the FinTech sector have mostly outpaced those of the traditional financial services sector, depicts a report from Capital IQ.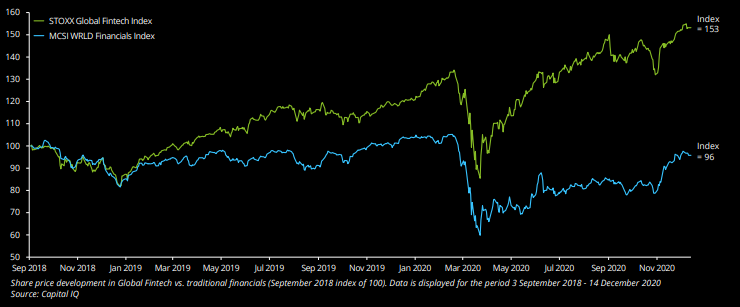 The rise in FinTech has made it possible for businesses to provide better customer experience through various channels like mobile apps, websites, and even physical locations such as branches or ATMs.
What Does a Full-Stack FinTech Software Development Team Do
A full-stack FinTech service team comprises professionals who develop, design, modernize and manage software and services, technology, design and innovation, and products end-to-end, and provide customer support.
Software and services: A team of full-stack FinTech engineers is responsible for developing and maintaining the software and services. They work with the other teams to ensure that the software suffices the requirements of a particular project or product and is easy to use.
Technology, design & Innovation: A UX/UI team is responsible for designing, building, innovating, and optimizing the technology that makes up the full-stack FinTech solution. They collaborate with other teams to modernize and maximize FinTech apps or products with the latest technology, design, and innovation
Product management: The product management team is responsible for defining and managing the product roadmap, working with the other teams to ensure that the full-stack FinTech services meet their customers' needs and deliver the expected top-line and bottom-line goals.
Customer support: The customer support team is responsible for providing 24/7 support to customers. They ensure a seamless, omnichannel & positive experience for customers.
Why Choose MSys Technologies for End-to-End Full Stack FinTech Software Development
Financial transactions have acceleratedly transitioned to an online mode, whether with payments, wealth management, credit unions, or retail banking. The change catalyzed by the COVID-19 pandemonium & digital transformation demands financial firms revamp their operations and transactional methods to thrive, sustain and compete in a fierce marketplace by helping customers transact seamlessly in an online or cashless mode.
As a top-tier FinTech service provider, we augment your digital BFSI capabilities both qualitatively & quantitatively by planning & executing FinTech services with full-stack competencies. We develop web, cloud, mobile, home-grown, or native FinTech stacks to strengthen and secure your operationalization models, helping you provide a phenomenal customer experience – that's seamless and omnichannel.
With us, you can:
Develop full-stack enterprise-grade FinTech services to support your financial workloads across the cloud or on-prem with flexible and versatile configurations to match your requirements
Modernize your FinTech stack and be assured that it complies with the latest regulations
Harness end-to-end full-stack FinTech services to create & optimize front & back-end codes, Query databases, and system infrastructure.
Integrate, centralize, augment, and secure your mission-critical data across a cloud-native ecosystem
We leverage emerging tech (underpropped by innovative, cutting-edge technologies such as artificial intelligence, machine learning, big data, blockchain development & IoT) and a digital-first approach for greater efficiency, transparency, and splendid customer experiences. We optimize your ROI by leveraging the following keystone services to meet your customers' needs, secure your FinTech stack, elevate your market reputation, adaptability and expedite your time-to-market transition:
Banking Software Development services – Developing secure banking applications to offer personalized banking experience to customers, elevating customer success & experience indexes.
Fraud Detection Services – Ensuring end-to-end and comprehensive protection from money laundering, leveraging IAM & MFA security frameworks to counter phishing, identity theft & other scams.
InsureTech Services – Make the claim processing hassle-free with better customer service, lower underwriting costs, and better security frameworks.
Wealth Management Services – Customized FinTech apps enabling financial habit and history monitoring & analysis, better interactions with customers, driving splendid engagements
Banking & Invoice Services – Track your sales and automate your invoice process for better efficiency and transparency.
Our Mission: Codevelop and Optimize State-of-the-art FinTech Competencies for a Winning Edge
MSys Technologies aims to assist our FinTech clients in providing the greatest possible value to their consumers. We strengthen your technology capabilities, so you can cruise through the crowded FinTech market, attuning to the best possible client affinity. We are propelled by a mission to facilitate the operationalization of state-of-the-art specialized FinTech services.
The FinTech industry is constrained by numerous issues that frequently keep coming up as it has dynamically transitioned from FinTech to RegTech to SupTech. By offering specialized FinTech consultancy and end-to-end engineering services to overcome regulatory compliance barriers, better manage risk, and increase operational effectiveness, we are dedicated to assisting you in overcoming these crippling obstacles with ease.
Our experts collaborate with you to speed up the adoption of your product while keeping you abreast of compliance and regulatory needs. Our state-of-the-art keystone FinTech services include the following:
– Financial Technology Services: We provide a comprehensive array of cutting-edge financial technology services to assist our clients in staying on the winning edge, from core banking systems to payment processing to wealth management.
– Regulatory Compliance Services: We provide a full range of services to assist our clients in adhering to constantly evolving compliance and regulatory standards. Regulatory reporting, risk management, data management, and other services are among our primordial offerings.
– Security Services: We offer you strong security services in the face of ever-proliferating cyber threats. MSys Technologies provides a full range of security services to safeguard our client's data and systems from thefts and unwanted access.
Our Avant-Grade Preparedness For Market Success
MSys offers the knowledge and skills to flawlessly create, oversee, and execute mission-critical FinTech Product Engineering. In addition, we have dedicated Global Development Centers (GDCs) and Offshore Development Centers (ODCs) in the US, Australia, Malaysia, Vietnam, and India.
Our global team of over 320+ skilled FinTech architects and engineers will modernize and optimize your tech stack. In addition, our operations and human resources teams will handle other crucial tasks like hiring and retaining qualified engineers in a competitive employment market and maintaining ongoing operations.
Our Artfulness Recipe Oriented for a Leading Edge: Full-Stack FinTech Software Development Services
As the FinTech industry continues to grow, so does the number of companies offering full-stack services for their clients. What sets MSys Technologies apart from its competitors is that MSys Technologies offers a wide range of services, including mobile app development and front-end design, and also provides users with secure access to all the data they need when they're interacting with it at home or work.
We architect custom finance services by leveraging the following technologies:
AI-Powered Scalable Bot Frameworks – Leverage the skills of our top AI and ML consultants, developers, and designers to get insightful and pertinent knowledge from the data gathered and provide your clients with specialized services.
MSys leverages AI-powered scalable bot frameworks as FinTech services to help clients improve their productivity and enhance their products. These frameworks offer a wide range of benefits, including managing data more effectively, customizing services more efficiently, and creating a better customer experience.
Additionally, these frameworks help businesses keep up with the latest technology developments and changes in the market, allowing them to concentrate on activities centered on their customers. Thus, FinTech clients are delivered phenomenal, seamless omnichannel experiences, which ultimately help business revenue flourish.
Hyper Automation – MSys Technologies is a well-known provider of Hyper Automated FinTech services. Our services, built on a foundation of Robotic process automation (RPA), provide customized financial services to suffice the specific needs of our customers. MSys Technologies' Hyper Automated FinTech services are fast, efficient, and reliable and help customers optimize their ROI.
Blockchain Loyalty Platform Accelerator – MSys blockchain loyalty program accelerator is a beneficial FinTech service for clients because it allows them to accumulate loyalty rewards from all the parties in the chain. The earned rewards can then be redeemed from all partner companies, reducing management costs for companies.
At MSys Technologies, we leverage our expertise and experience in blockchain technology to help FinTech businesses realize the potential of this innovative technology. We offer a range of services that include blockchain consultancy, blockchain development, and quick POC (Proof of concept).
Cybersecurity Services – MSys Technologies provides a full suite of cybersecurity services that help protect FinTech companies from the most common attacks. Our cybersecurity services include the following:

Security testing and vulnerability assessments
Cloud Security
Malware, fraud, and phishing protection
Developing and implementing security protocols

We have dedicated cybersecurity engineers to help our clients protect their mission-critical infrastructure and systems from all known threats and those that are not yet known. MSys Technologies is a full-service "Security In-Transit" provider offering custom cybersecurity services for securing your FinTech stack.

Payments, Digital Wallets, and Apps – Payments, Digital Wallets, and Apps are important FinTech services from MSys, allowing clients to pay securely and easily for goods and services, whether online, offline, or cashless. Our payment services enable clients to pay for items with a credit or debit card. For example, a digital wallet allows clients to store their payment information in one place to quickly pay for things without entering their payment information every time. We develop and integrate various apps for clients which can be downloaded and used across an array of device platforms such as desktop, tablet, or mobile to make payments.
The comprehensive suite of digital banking services from MSys Technologies allows clients to manage their finances and payments more effectively. The digital aggregator app enables users to aggregate all their bank accounts, credit cards, and investments in one place. Thus, tracking all their finances and making better-informed decisions about spending and saving is easy.
The payment gateways developed by MSys Technologies allow clients to make online, offline, and cashless payments quickly and easily. These gateways provide a secure, convenient, and efficient way to pay for goods and services online or in person. Additionally, we also offer a variety of features that make paying bills, transferring money, and managing finances easier than ever before.
These services are secure and easy to use, making them ideal for online, offline, and cashless transactions.
Loyalty Programs – Loyalty programs by MSys help banks and insurance companies be on top of the list when customers are looking for the best deals. These programs offer rewards and incentives to customers for using the services of a particular bank or insurance company, thus encouraging existing customers to continue using the services of their preferred bank or insurance company and attracting new customers. MSys' Loyalty Programs also help banks and insurance companies track customer behavior to understand better what products and services interest the customers the most. The program also fetches critical information that helps develop new products and services as per customers' interests.
Digital Transformation – Digital transformation has catalyzed and disrupted financial technology (FinTech) companies on ways to accelerate innovation and improve operational efficiency in the wake of the new normal, enabling them to generate more revenue. By deploying the right set of digital transformation tools, FinTech companies can automate manual tasks and integrate data more effectively. MSys provides the right set of digital transformation tools to help businesses achieve their goals.
For example, FinTech clients rely on digital content and technical documentation to communicate with their customers and partners. MSys provides the necessary quality, accuracy, and consistency to help these clients succeed in their digital transformation initiatives. Our Digital Content and Technical Documentation services can help FinTech clients improve their customer experience, optimize their operations, and comply with regulatory requirements.
Cloud-Native Engineering – MSys' Cloud-Native Engineering services are incredibly beneficial for FinTech clients expediting the product adoption curve, increasing efficiency, and enabling more flexibility. By leveraging the latest cloud technologies and DevOps methodologies, MSys helps FinTech companies rapidly develop and deploy new applications and features to scale their resources and operations for increased efficiency and optimum ROI, thereby providing a winning edge.
SaaS Engineering – SaaS Engineering services from MSys solve the problems of scalability for FinTech clients by developing platforms for handling large volumes of transactions. These platforms enable FinTech companies to deal with large amounts of data. Our SaaS services are secure and reliable, which is critical for companies that handle sensitive financial information.
Data Privacy Lifecycle Management – FinTech companies are under increasing pressure to protect the privacy of their customer's data. Msys' Data Privacy Lifecycle Management services help companies to manage and protect their mission-critical data throughout its lifecycle. The services include data discovery, classification, and mapping; data loss prevention; secure storage and disposal; and incident response. Msys' experienced team of FinTech engineers helps FinTech companies develop and implement comprehensive data privacy strategies to meet their specific business needs.
Data Analytics and Business Intelligence – Msys' data analytics and business intelligence facilitate FinTech clients by providing comprehensive business data across omnichannel (including data from internal systems and external sources, such as social media and news outlets). These omnichannel data points are analyzed to drive data-driven decision-making more easily.
DevSecOps for Finance – MSys enables DevSecOps as a service for FinTech clients, providing comprehensive and automated services for securing their applications and data, including the following:
– Continuous security monitoring and assessment of applications and data
– Automated vulnerability scanning and remediation
– Deployment of security patches and updates
– 24/7 security operations center (SOC) support
RegTech – The modern financial sector is poised to innovate and dynamically deliver new products and services. At the same time, it faces increasing regulatory scrutiny and compliance demands. Such scenarios call for RegTech to help financial firms meet regulatory requirements while freeing up resources to focus on innovation.
At MSys Technologies, we take a holistic approach to RegTech, working with our customers to identify and address all regulatory compliance requirements impacting their business. We also deliver services that automate data reporting and monitoring, identify potential risks and compliance issues, and provide secure archiving and retrieval of data.
We take care of the following aspects:
Data security: We ensure that data is protected with the latest security features, including encryption and authentication.
Compliance: We help our customers comply with regulations by providing services that meet regulatory requirements.
Integration: We make sure that our services integrate seamlessly with existing systems to prevent disruption to business operations.
By collaborating with MSys Technologies, you can take advantage of our resources, tools, and in-depth sector knowledge to digitally supercharge your FinTech stack and gain a competitive edge. We have extensive knowledge and experience in developing pertinent, slick, and customer-focused FinTech services for various device platforms such as desktop, mobile, and tablet.
Enabling a Multitude of Features and Functionalities
Our platform provides you with many features and functionalities, including budgeting, transaction data aggregation, payments, debt management, credit management, bill payment, and advanced encryption.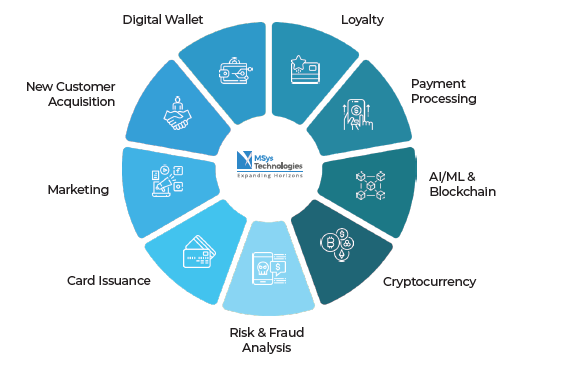 Wrap Up
A full-stack FinTech solution includes everything from the database to the servers, as well as application development and maintenance. The benefits include easy access, cost optimization, and a team of experts who can develop, manage, and optimize FinTech apps, projects, and capabilities.
We hope this article helped you comprehend why you should hire a full-stack development company.
MSys Technologies is a leading full-stack FinTech software development company that understands how important it is to connect customers to financial services through a reliable digital user interface. We assist businesses in modernizing their financial services to increase operational effectiveness, transparency, response times, and customer satisfaction in the following fundamental ways:
An End-to-End Digitally Diligent FinTech Foundation
Two-week quick start engagements
Making the end user the focal point of your product development strategy
Designers, architects, and developers with expertise in fintech
Providing customers with cutting-edge products, high-value-added services, and memorable experiences
Improving Internal Procedures
Constantly focusing on satisfying the end-immediate user's demands, which includes accessibility to everything, whenever, and wherever
Building smooth system connections
Establishing data flows between systems
Leveraging product modernization services for a competitive edge
Our services scale-up everything from payroll FinTech tools to P2P lending, banking software, and wealth management.
The best part is that our services come with all the bells and whistles: we'll create an end-to-end solution that is cost-effective, scalable, flexible, and user-friendly.
So, if you're looking for a reliable and efficient way to streamline & optimize your financial operations, MSys Technologies is your ideal partner for state-of-the-art FinTech services.
Want to hire a team of full-stack development experts now? Feel free to drop us a line, and we'll get in touch.