SNIA Storage Developer Conference 2019: 4 Reasons That Make it a Go-To Event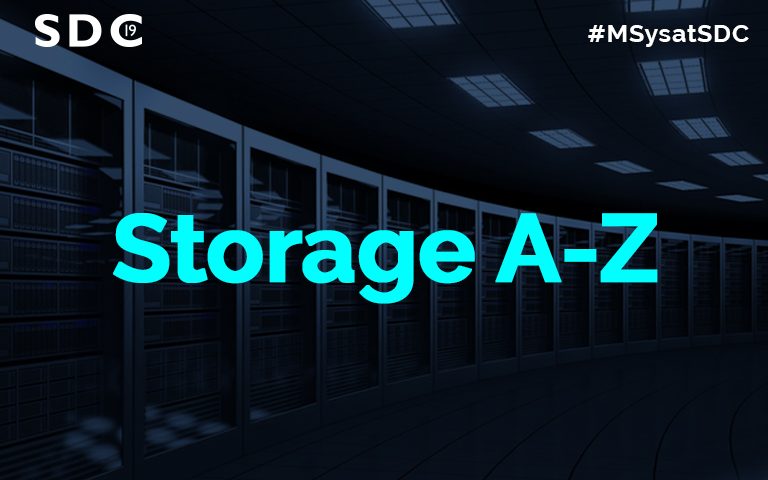 Audio : Listen to This Blog.
If you have been working with cloud and storage technologies, you know that SNIA's Storage Developer Conference (SDC) is unmissable. As with most large-scale technology events, SDC can get a little overwhelming (and underutilized!) for attendees.  So here we want to give you 4 reasons why attending SDC USA is a must- so that you can plan your itinerary accordingly. If you are attending SDC this year, be sure to let us know with a #MSysatSDC on LinkedIn, Twitter, or Facebook.
4 Reasons that Make SNIA SDC 2019 a Go-To Event
1. Special Events
Along with an exhaustive list of keynotes, sessions, and technical paper presentations, SNIA is hosting a set of specially categorized events. These sessions and workshops highlight near-future storage technologies and are more participant oriented.
A. SMB3 Interoperability Lab
September 22-26, 2019, Co-located with SDC
The purpose of this Interoperability Lab (formally known as the SMB3 Plugfest) is for vendors to bring their implementations of SMB3 to test, identify, and fix bugs in a collaborative setting to provide a forum in which companies can develop interoperable products.
B. SNIA Swordfish™ Workshop
Tuesday, September 24, 2019: 2:50 p.m. – 3:05 p.m. and 5:00 p.m. – 7:00 p.m.
Included in your registration, SNIA's Storage Management Initiative is hosting its second SNIA Swordfish™ Workshop at this year's SDC.
(Watch Nidhi Malhotra describe the role of Swordfish™ for storage management at SDC India this year)
2. Keynotes
SNIA Keynotes are given by the stalwarts of the storage industry- either from SNIA's board or from the leading storage companies. This year too, some keynotes that we're looking forward to are:
Accelerating Innovation Through Next-Generation Storage Technologies: By Rebecca Weekly, Senior Principal Engineer & Director of Cloud Platform and Solutions Strategy, Intel Corporation
DreamWorks Animation: Delivering Scalable Data Services for Ogres, Dragons, Trolls and now, Yetis: By Scott Miller, Fellow, Systems Architecture, DreamWorks Animation
eBay Object Storage at Scale: By Gilbert Bouzeid, Lead Product Manager for eBay Storage, eBay
NVMe State of the Union: By Peter Onufryk, Intel Fellow and NVMe Technical Workgroup Chair, Intel
3. Technical Presentations
SDC has some of the most interesting technical paper presentations ont heir agenda. The topics are diverse, knowledge-packed, and offer a strong business case. We are excited to have our very own SME's present at SDC this year. We are pleased to announce and present three technical papers at SNIA SDC USA 2019.
A."LSM-based storage techniques – strengths and trade-offs."
Learning objectives
Introduction to LSM trees
How LSM trees are used to store data
Strengths and trade-offs of various LSM techniques
Authors: Shriram Pore, AVP, Storage Engineering and Rohan Puri, Technica Lead, Storage Development
B. "Application Performance benchmarking for NVMe-oF persistent volume (on Kubernetes cluster)"
Learning Objectives
Automated Kubernetes cluster deployment with GlusterFS and NVMeOF target
Application scalability insight on Persistent Volumes over NVMeOF target
Application Performance Benchmarking Reports on NVMe-OF persistent volume attached to scale-out Kubernetes cluster and its analysis.
Authors: Pooja Pandey, Lead Engineer, and Pranjali Malode, Lead Engineer
C. "Microblogging Blockchain-based encrypted Cloud Storage Architecture with compliance to General Data Protection Regulation – Right to Erasure (Right to be Forgotten)"
Learning Objectives
The rise of Blockchain Storage Marketplace (Gartner 2025: $176 billion Blockchain market)
Decentralized cloud storage – Charismatic data scalability and resilient data availability
Access to 1 TB of data storage at a mere $1 to $2
Microblogging Block-chain Architecture with compliance to General Data Protection Regulation – Right to Erasure (Right to be Forgotten)
2020 predictions (not too farsighted) for encrypted cloud storage
Authors: Divyank Shukla, Storage Architect
4. All-Inclusive Learning Opportunity
SNIA's SDC is like a university degree in storage, that you can graduate in a mere couple of days. The extensivity of the theoretical, practical and functional knowledge shared at SDC is mammoth. This event is ideal for staying abreast of storage trends and technologies. Relevant tutorials, sessions, keynotes, and plugfests will equip you with a deeper insight into the forseeable future as well.
We are being represented by a few of our engineers, who'd love to give you company while at SDC. Here is how you can reach us at Santa Clara. Have a great event!