Expansive usage of technology and IoT has led to a humongous data influx. Enterprises are now dealing with terabytes of data in day-to-day business, leading to unchecked growth in size and volume of data. Enterprises have a large amount of data that is dormant, or cool- that is rarely accessed.
CiS- Effective Data Management Services for Enterprises
Cloud Integrated Storage (CiS) is a new type of storage system that integrates SAN storage and cloud data management on a highly available platform. CiS systems use three different types of storage: performance-oriented flash SSDs, capacity-oriented SAS disk drives and cloud storage. Data is relayed from one type of storage to another based on its relevancy and usage at the time. Cloud Integrated Storage helps businesses to diversify relevant and dormant data effectively.
"Realize potential benefits of the cloud, including global file sharing, rapid disaster recovery and simple, centralized IT management over a global storage infrastructure"
Enterprises can realize potential benefits of the cloud, including global file sharing, rapid disaster recovery and simple, centralized IT management over a global storage infrastructure- with the implementation of CiS. The iSCSI SAN protocol is implemented to connect to servers. It also combines a number of storage technologies, including snapshot, backup, deduplication and compression with storage services offered by cloud service providers. Cloud Integrated Storage acts like a primary storage for dormant enterprise data like email, file shares, Microsoft Sharepoint, content management systems, virtual machines/ VM sprawl and large unstructured data repositories.
Cloud Integrated Storage Offerings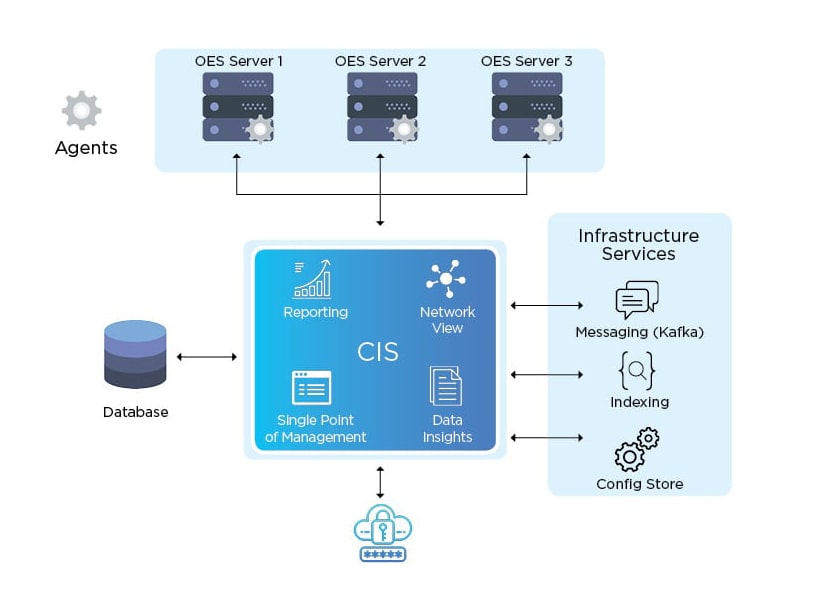 MSys Technologies offers Cloud Integrated Storage solutions that are reliable, available, and cloud-compliant. MSys Technologies develops multifaceted architecture to address storage infrastructure requirements such as on-premise and virtual disk compliancy of cloud. With solutions developed at MSys Technologies, customers can access, manage and view all data within the ecosystem through single pane of glass dashboards, while being seamlessly integrated with standard IT operations. The Cloud Integrated Storage services offered by MSys Technologies benefits end users from essential capabilities for effectively and proficiently archiving, managing, and randomly accessing data.
Storage
MSys Technologies' solutions incorporate key characteristics to sustain enterprise-class levels of performance, availability, data security, and data durability through compression, de-duplication, network acceleration and encryption. With MSys Technologies' CiS Services, enterprises can take advantage of the cloud with high data durability standards, improve business continuity and reduce overall costs. MSys Technologies simplifies storage management for inactive data and offsite protection by providing cloud access through standard interfaces. Configure a complete platform that enables enterprises to embrace location-independent computing while ensuring flawless application delivery to leverage global resources.
Some other features of Cloud Integrated Storage Services offered by MSys Technologies include:
Automation of enterprise data management: Backup data with cloud snapshots and eliminate the need for remote data replication..
Increased compliance: Guaranteed compliance with corporate policies for data retention and disaster recovery.
Accelerated disaster recovery: Give immediate data recovery with policy-based system, instead of tape rotations.
Consolidated storage infrastructure: Meet the needs of capacity and performance centric applications to give enterprises a complete hybrid cloud solution.
Our Customer Speaks
"Our overall experience with the MSys Technologies team has been great! I'd highly recommend their cloud services and solutions."
– QA Manager, Cloud Solutions Enterprise
Accelerate with MSys today!

Work with a top-ranked, Gold and Elite certified Microsoft Cloud Partner

Leverage Teams with a proven record of extensive datacenter migrations

Rapid ROI with 3x faster migrations and up to 43% lower costs

Migrate datacenter to cloud with near-zero downtime, risks or end-user impact
See us in action,
kick-start the project
CTO Network Newsletter
Join 10,000+ Product Leaders for latest technology updates
Talk to Our Engineering Experts