In the Digital Transformation age, data protection cannot be compromised. The increasingly targeted and malicious threats have made data privacy an irrefutable aspect of any organization- ISV or Enterprise. Organizations worldwide face productivity loss and run at higher data security risks owing to vulnerable data protection solutions. Businesses that fail to protect their servers, leave themselves open to potentially devastating data losses. The inability to operate because of data loss, even a temporary one, is driving many businesses to deploy extensive data protection solutions.
High Availability solutions for Disaster Recovery
The Internet has widened the scope of information sharing and collaboration throughout organizations and communities; implying the importance of high availability in data management solutions. The need of the hour is to have a robust and scalable data backup and recovery infrastructure that facilitates real-time backup, adheres to stringent compliance regulations, and maximizes availability of critical systems.
"A robust and scalable Data Protection Solution facilitates real time back-up and maximizes availability of critical systems"
Enabling Next-Gen Data Protection
Your Data Protection Solution should meet all of the requirements that help IT leadership drive efficiencies and meet service levels. Organizations are heavily reliant on mission-critical applications to support revenue generation. They seek to achieve the lowest downtime (low RTO) and minimal to NIL data loss (low RPO). The ideal data protection solution must be streamlined with product engineering to provide a coherent and consistent product roadmap.
Data Protection Offerings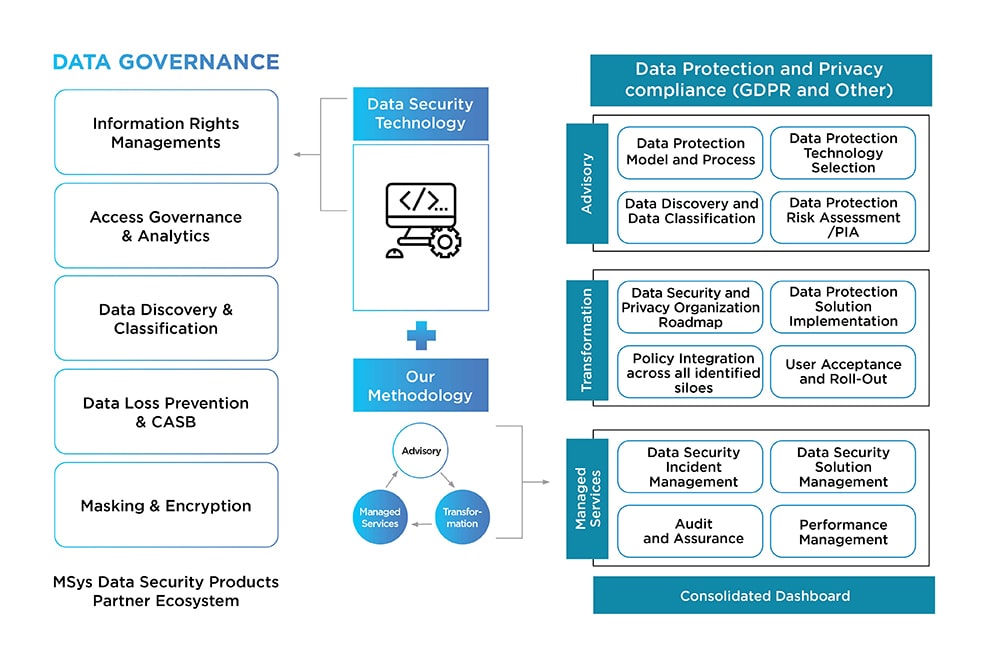 MSys Technologies Data Protection Services ensure that your data is under constant vigilance from malicious threats and unwarranted downtime. MSys Technologies builds effective data protection solutions that enable physical and virtual recovery of your data within your IT environment. MSys Technologies implements backup and disaster recovery solutions that automate full, incremental, disparity, mirror, and continuous backups for large datasets. MSys Technologies Data and Backup recovery solutions are applicable to every stage of your product engineering- from development to testing to release. MSys Technologies offers complete data protection services to you for your data, applications, and systems.
Choosing and implementing an architecture that best fits your availability requirements can be a daunting task. Before you choose a Data Protection Solution provider for your organization, ensure that they provide foundational and advanced capabilities like:
Application Data Protection
Clustering and High Availability
Virtual Infrastructure Protection
Storage Integrated Backups and Archival
Our Customer Speaks
"We engaged the services of MSys Technologies and are extremely happy to be associated with the team. We are now confident that we can provide the most secure products to our clients. Thanks to team, we can now deliver our clients with high-performing, highly scalable and a secure and centralized storage system."
– Director, Leading AI-based Data Protection Solution provider.
Accelerate with MSys today!

Work with a top-ranked, Gold and Elite certified Microsoft Cloud Partner

Leverage Teams with a proven record of extensive datacenter migrations

Rapid ROI with 3x faster migrations and up to 43% lower costs

Migrate datacenter to cloud with near-zero downtime, risks or end-user impact
See us in action,
kick-start the project
CTO Network Newsletter
Join 10,000+ Product Leaders for latest technology updates
Talk to Our Engineering Experts