The sheer volume of networking challenges overwhelm businesses. Network operations are also responsible for driving Total Cost of Ownership (TCO) due to complexity and maintenance expenses. Adding to the severity of the problem is the rigid network infrastructure that makes it almost impossible to automate or orchestrate it. These downfalls seriously affect the ability to stay competitive.
Simplify your Networking Infrastructure with Machine Learning
Enterprises and ISVs can tackle these challenges with Network Function Virtualization (NFV) solution that is programmable and can be combined with a dynamic cloud orchestration system. With NFV solutions, businesses can incorporate cloud and virtualization technologies to drive rapid development of new network services with elastic scale and automation.
"Enterprises need to deploy carrier grade solution that has built-in automation and is driven by machine learning"
Enterprises need to deploy carrier grade solution that has built-in automation and driven by machine learning. A robust Network Function Virtualization solution lets you deliver on your SLAs by triaging potential failures and by optimizing the distributed cloud infrastructure. Enterprises can make their IT network infrastructure more agile and simplified by adopting NFV services.
However, in order to implement a scalable solution at the enterprise level, and to ensure cost saving while realizing the full potential of NFV, business must enlist the services of a NFV services provider with proven domain expertise.
Network Functions Virtualization (NFV) Offerings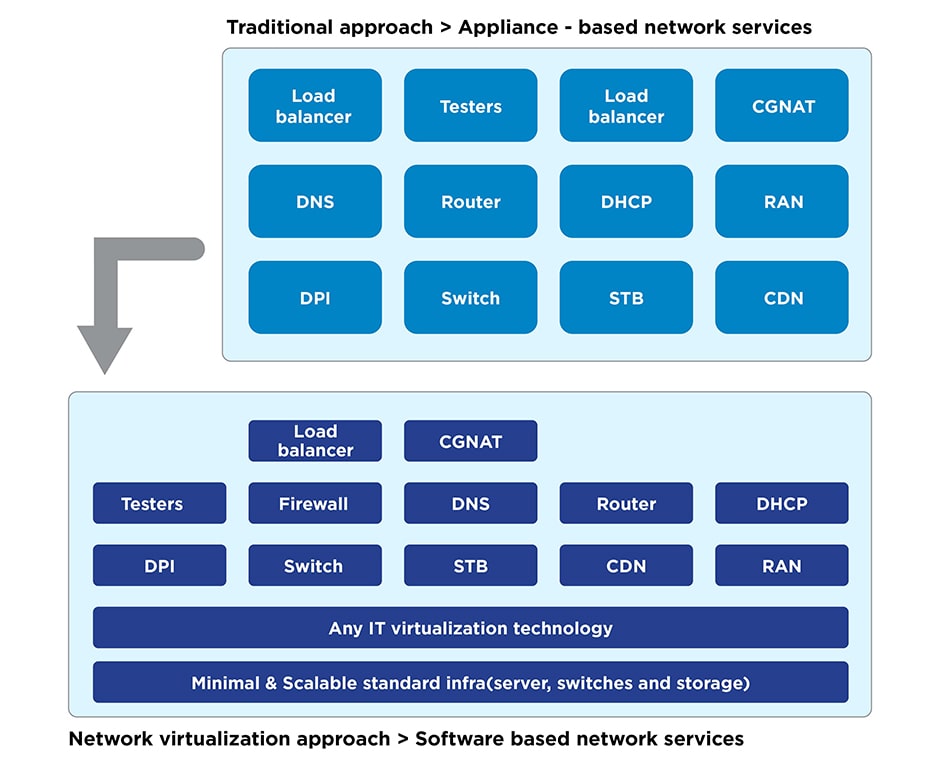 MSys Technologies' expertise in Network Function Virtualization orchestration, NFV/SDN management solutions, Heat, OpenStack, and integration with Service Delivery Platforms, makes it an all-encompassing services provider. MSys Technologies can offer Network Function Virtualization services that significantly lower capital expenditures. The experts at MSys Technologies deliver NFV solutions that enable end users to reduce errors and TCO through automation while improving visibility and simplifying their operations. MSys Technologies provides an extensive range of NFV/SDN services and support operations.
MSys Technologies' expertise spans
SDN
SDN Application & Controller development and testing
Management GUI Development for SDN controllers
Wireshark dissector plugins for tunnelling protocol
Adapter development to support legacy Switches and Routers
SDN integration with OpenStack (Neutron)
OpenDaylight Controller integration and testing
NFV/ OVS
NFV Orchestration capabilities for various SDN platforms
IPv6 support for Active & Passive socket Communication between Open vSwitch daemons (OVS)
OVS Integration testing with different hypervisors platform
Scalability testing for OVS
Unit tests using AUTOTEST, m4 programming
OpenFlow
OFLOPS for bench marking OpenFlow enabled switch evaluation
OFTEST to verify accurate implementation of OpenFlow protocol in terms of semantics
Using Cbench for testing OpenFlow controller performance Customizing Cbench
Adding support for newer versions of OpenFlow
Our Customer Speaks
"We had our apprehensions while outsourcing to MSys for the first time. But in due course, we realized how effective and time saving their services were for our business."
– Sr Technical Architect, Leading IT and Networking Enterprise
Accelerate with MSys today!

Work with a top-ranked, Gold and Elite certified Microsoft Cloud Partner

Leverage Teams with a proven record of extensive datacenter migrations

Rapid ROI with 3x faster migrations and up to 43% lower costs

Migrate datacenter to cloud with near-zero downtime, risks or end-user impact
See us in action,
kick-start the project
CTO Network Newsletter
Join 10,000+ Product Leaders for latest technology updates
Talk to Our Engineering Experts